Edward Napleton Jr. of the Ed Napleton Automotive Group
Edward Napleton Jr., also known as Eddie Napleton, is a 4th generation car dealer and proud son of Ed Napleton. Eddie is proud to continue the tradition of the Napleton Automotive Group into the 4th generation of Napletons. Edward Napleton Jr. is the Director of Operations at the Group, where he also works with three of his siblings. Even as the Napleton Automotive Group continues to grow, it's extremely important to Eddie and the Napleton family to stay true to their core beliefs and continuously give back to the community. It's through the Napleton's constant hard work that has allowed the Group to remain Second to None Since 1931! The Napleton family is honored to be a part of the Urbana, IL community.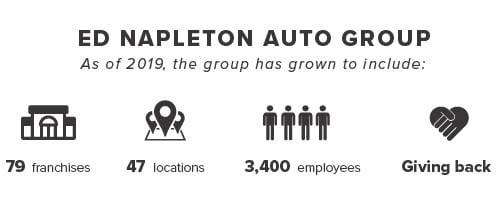 Eddie Napleton & His Family

Eddie Napleton grew up in the greater Chicago, IL area where he lives with his family today. Eddie married Jami Wannstedt who also grew up in the Chicago area attending Lake Forest High School. Eddie and Jami have two twin boys David and Eddie, and newborn son Francis. Edward Napleton Jr. moved down to the West Palm Beach, Florida area with his family in 2015 to oversee the South Region for the Napleton Automotive Group. While in Florida, Eddie Napleton oversaw 14 dealerships in the South Region. After four years in Florida, Eddie and his family decided to move back home to Chicago to be closer to their families. Eddie now works out of the Group's corporate offices near Chicago with his three siblings and his father Ed Napleton.